Deep below the surface of the earth's oceans, the planet is still active. Oceanic ridges, also called mid-ocean ridges, are only now being thoroughly explored with deep-sea imaging and submersible craft. These seams in the earth's crust fuel their own hidden ecosystems in the darkness and help drive the stately motion of tectonic plates. Their volcanic activity creates the world's largest mountain chain hidden in the deepest parts of the world's oceans.
Definition
A mid-ocean ridge is a zone where new seafloor is constantly created due to the welling of molten rock from beneath the earth's surface. To understand why mid-ocean ridges form, it's helpful to understand a few basics of plate tectonics. The earth's mantle is made of molten rock, or magma, that is constantly in motion beneath the crust. Tectonic plates shift in response to this motion like water lilies floating on a pond. At some points, plates dive under other plates in areas called subduction zones. In other places, plates are growing apart; these are mid-ocean ridges.
Larger masses of thick crustal rock make up the continents, but most of the earth's surface is seafloor. As tectonic plates move apart, the new crust must form. Mid-ocean ridges are where that new formation occurs. Together, mid-ocean ridges form one large ridge system that spans the earth's oceans, covering more than 40,000 miles or 65,000 kilometers. Most of the ridge system lies beneath more than a mile of open ocean, with an average distance of 8,200 feet (2,500 meters) from the water's surface to the ridge's top.
In cross-section, ridges look like two long mountain chains on either side of a lower elevation, which can sometimes form a deep valley known as a rift or trench. Convection currents in the mantle create hot spots at certain points, allowing magma to come to the surface at the ridges. As the magma flows out of the rift, it piles up into submarine mountains, some of which are taller than many mountain chains on continental crust. The most famous of these rifts, the Mariana Trench, is the deepest point on the planet.
Although all oceanic ridges grow, they spread at different rates. Some grow slowly, adding only a few centimeters every year. Others produce 10 to 20 centimeters of new sea floor annually; that's up to eight inches. The ridges that grow slowly produce steeper slopes because the magma has time to cool into solid rock, while ridges that produce magma more quickly flow into wider, gentler slopes. Both slow-growing and faster rifts are home to abundant and highly specialized ecosystems. With more than 17,500 species identified and probably many more that remain undiscovered, these habitats are also showing scientists how life thrives in environments without sunlight.
Examples
All the world's oceans have a mid-ocean ridge beneath them. This feature usually follows the center of the ocean as basalt spreads evenly to both sides of the ridge. Much of the mid-ocean ridge system remains unexplored because of the challenges involved in reaching these inhospitable zones. Only about a tenth of a percent of the ridge system has been directly explored, but sonar and satellite technology have allowed researchers to map the ridges with great precision.
The Mid-Atlantic Ridge is one of the most widely-studied and accessible regions. Rising about a mile to a mile and a half above the sea floor, this ridge is slow-growing, producing about two inches of new sea floor annually. With one end near Greenland and the other just north of Antarctica, it is one of the largest features on the planet and would be easily visible from space if not for the ocean covering it. Because it is a slower-growing mid-ocean ridge, the Mid-Atlantic Ridge features a broad rift valley.
By contrast, the East Pacific Rise is growing quickly with a spread rate of six inches a year on average. That difference may seem small, but it's enough to prevent a rift valley from forming along the East Pacific Rise, which looks more like a long, smooth chain of volcanic summits winding along the center of the Pacific Ocean. Unlike its Atlantic counterpart, the East Pacific Rise comes considerably closer to one continental coastline than the other at points, veering close to the North American coast and cutting into the Gulf of California, one of the few places where these sub-sea features are visible on a surface map.
Another place where a mid-ocean ridge affects the topography of surrounding areas is in the Middle East, where the Central Indian Ridge lies beneath the Red Sea. This ridge runs southeast to a point south of India's southern tip, where it connects with the Southeast Indian and Southwest Indian Ridges. This ridge system grows slowly at a rate of only a few centimeters per year overall.
As this map of mid-ocean ridges from the U.S. Geological Survey shows, main ridges often have smaller spurs and sub-ridges leading from them. Ridges can grow at different rates, and some form hot spots where volcanic activity is highest. If these areas remain hot for long enough, islands can grow where enough new basaltic crust is formed. The Galapagos Islands are part of a slow-growing mid-ocean ridge, and they are still rising from the sea floor, creating new land and a fascinating case study for biologists and geologists from around the world.
Maps and Diagrams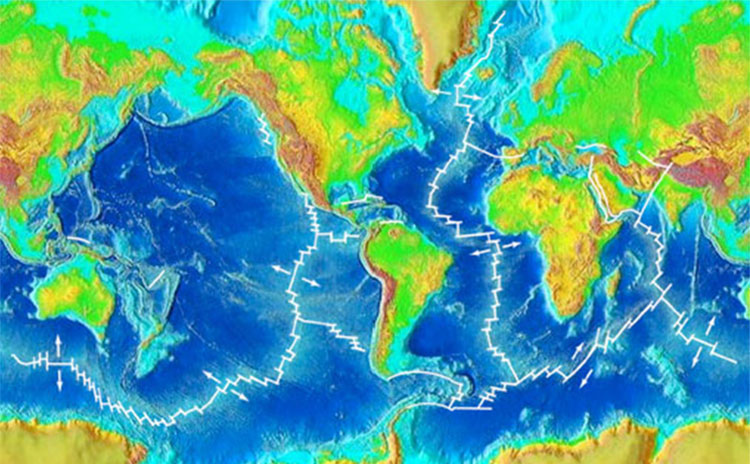 The National Oceanic and Atmospheric Administration, or NOAA, has mapped the major mid-ocean ridges and rift valleys in this illustration, indicating the direction of spread as well as the seams themselves.
The geologically active zones around mid-ocean ridges can often generate earthquakes along fault lines. This diagram from EARTH Magazine illustrates the axis of these potential faults and the way lava flows from a central rift: Figure 3
Facts about Mid Ocean Ridges
At nearly seven miles deep, the Challenger Deep zone of the Mariana Trench could swallow Mount Everest and still have more than a mile of water above the mountain's peak.
The action of mid-ocean ridges is directly related to the volcanic activity in the Ring of Fire, the zone around the Pacific Ocean that contains 75 percent of the world's volcanoes and 90 percent of its earthquakes. The ocean floor created beneath the Pacific Ocean reaches subduction zones along continental shelves, melting the basalt back into lava and creating new volcanoes on land.
Scientists have explored less of the world's mid-ocean ridge system than of Mars or the dark side of the moon, according to NOAA researchers.
The first surveys of the ocean floor began in the 1950s when scientists noticed sonar results that suggested a ridge down the center of the Atlantic Ocean that seemed to follow the irregular curves of continental coastlines on both sides of the ocean. A ship called the Vema was one of the first to survey these hidden features.
The network of mid-ocean ridges is so extensive that they would wrap six times around the moon.
The rift valley in the center of the Mid-Atlantic Ridge is about the same width and depth as the Grand Canyon on land, but it stretches