Jamaica is one of the hottest vacation hot spots in the Western Hemisphere. The island nation is known for its distinctive food, music, and all-inclusive resorts. Its rugged mountain ranges, unexpected waterfalls, and aqua-colored lagoons are also big attractions for the world's tourists. While finding things to do in Jamaica isn't a challenge, identifying the continent to which Jamaica belongs is.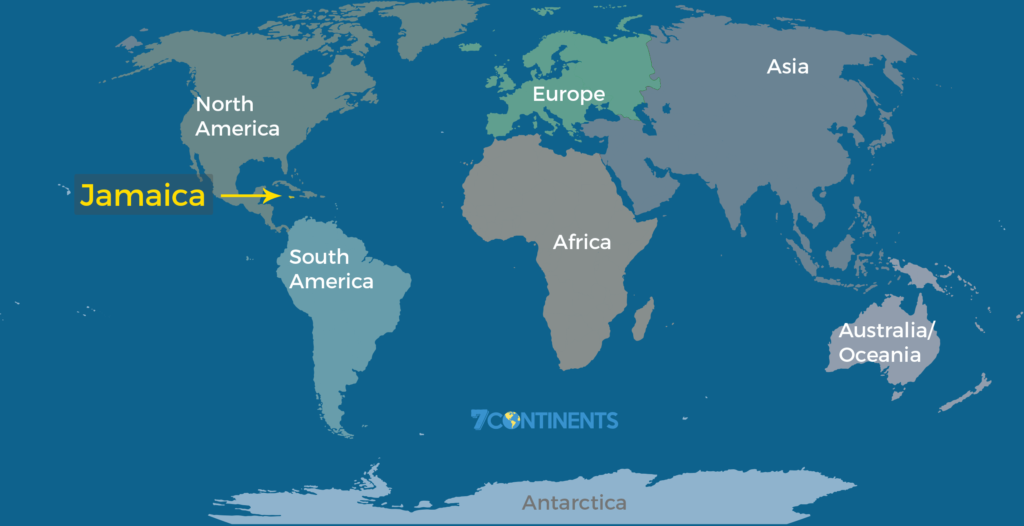 What Continent Is Jamaica In: North America or South America?
Jamaica is located about half-way between North and South America, which is why you'll get mostly puzzled looks if you ask people about the island nation's continental association. When it comes to geography, most experts consider Jamaica to be a North American territory. Jamaica lies on a latitude that is about two degrees south of Mexico. In contrast, the nation is about six degrees north of Venezuela, which is its nearest non-island, South American neighbor.
You'll find Jamaica in the heart of the Caribbean Sea, and it's the third-largest island in that region. The Greater Antilles chain of islands that include Cuba, Hispaniola, Jamaica, and Puerto Rico dominates the area. Since both Mexico and Venezuela are blessed with coastlines that touch the Caribbean Sea, the debate about whether Jamaica is in South America or North America will likely persist.
Does Jamaica's History Point to a North American or South American Origin? You Decide!
Jamaica was part of the land that Columbus discovered during his commissioned voyages to the New World. When he arrived in Jamaica in 1494, the Taino native people greeted him. They spoke an Arawakan dialect, and their name means "the relatives" in Arawak. Diseases, enslavement, and wars with Spanish colonists who settled in their territory between 1500 and 1655 left Jamaica's Taino native people nearly extinct.
According to linguists, the Arawaks originated in South America and later migrated throughout Central America and the Caribbean islands. The Taino people's similar language and their peculiar name show that they are related to the Arawak native people of South America. Today, evidence of the Arawak language and culture are found in all South American countries except Ecuador, Uruguay, and Chile.
England captured Jamaica from the Spanish in 1655, and they continued Spain's practice of bringing West African slaves to the island to work on sugar and tobacco plantations. Jamaica stopped slavery in 1838, but it wasn't until 1962 that it became an independent nation. Jamaica keeps its status as a UK Commonwealth Nation and has liberal travel and immigration policies among the UK and its other former colonies.
Cultural Ties Place Jamaica in North America
While Jamaica's early history is closely linked to the indigenous people of South America, its most recent history is decidedly North American. The Spanish, the French, and the English colonized most of North America. The English colonists held on to the largest pieces of North American land for the longest time, which is why the United States and most of Canada have English as their official language. Jamaica's official language is also English.
The British brought West African slaves to the United States to work on cotton and tobacco plantations. Since the slaves in the United States and those in Jamaica came from the same region of Africa, many had similar native language and cultural backgrounds. Today, the descendants of the West African slaves make up over 90 percent of Jamaica's population, and they have similar struggles and life experiences as the African American population in the United States.
Jamaica's Food Mixes the Best of North and South America
Jamaica is a food enthusiast's paradise, and its entrees are generally spicy and full of fresh flavor. Jamaican meals mostly consist of a variety of vegetables, fish, and meats such as chicken and goat. Pork and shellfish aren't part of its signature dishes. While these foods are also commonly eaten in North America, they change totally when skilled Jamaican cooks apply spices and culinary fusion techniques to them. Jamaica's cuisine is also influenced by the native plants of the region. For instance, Jamaica and its neighbors in Central and South America use cassava in their dishes.
Conclusion: Jamaica Has a Vibe That's All Its Own
Jamaica's natural resources, hard-working people, and modern infrastructure make it one of the Caribbean's crown jewels. While North American and South American countries would love to claim the beautiful island, Jamaica has a distinct attitude that makes it unique in the region.