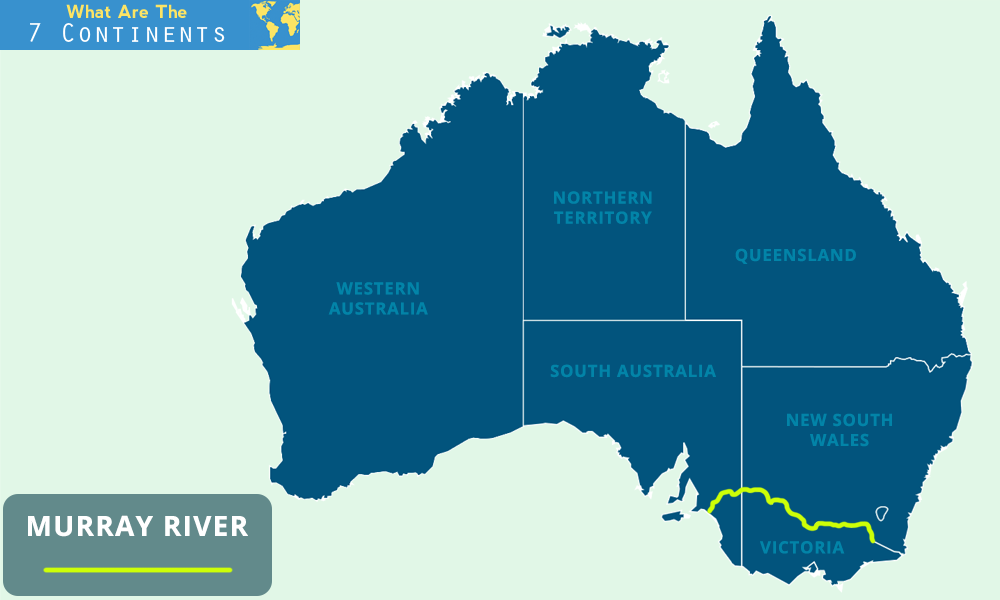 Although Australia may not be known for its rivers, it's home to some significant ones. This includes its longest, the Murray River. This one is located in southeastern Australia, making up much of the border between New South Wales and Victoria before heading into South Australia and emptying into Lake Alexandrina, a 250-square body of water, and then the Southern Ocean. Lake Alexandrina is located 60 miles southeast of Adelaide.
How long is it?
The longest river in Australia has varying reports as to is total length due to the various definitions of where it starts. The consensus is that it's the country's longest regardless of its exact length. Most estimates put it between 1,450-1,600 miles long, making it roughly a third of the length of the world's longest river, the Amazon.
Geoscience Australia, a research agency run by the Australian government, has defined the Murray River's length is 1,558 miles.
From the Alps
No, not those Alps, not the ones that stretch across eight European countries. Where the Murray River originates is the Australian Alps, this continent's highest mountain range. This is where Australia's highest peaks are located, ones that reach at least 6,600 feet in elevation, and it's here where snow becomes water and makes its way along the Murray River.
Murray River Trail
Would you like to experience the longest river in Australia up close and personal? Head out on the Murray River Trail, which provides opportunities to explore its river towns and the landscapes that can be viewed along this waterway.
Navigate it instead
About 1,240 miles of the Murray River is navigable, which means that it's the world's third-longest navigable river. The only ones with more navigable mileage are the Amazon and Nile Rivers. For that reason, many pass on taking advantage of what the Murray River Trail has to offer and instead just get on the water. In most sections of the river, its conditions are quiet and peaceful.
Are you hungry?
Nineteen out of every 20 oranges produced in Australia are created in the Murray-Darling Basin while slightly more than half of Australia's apples are also produced in this region. Additionally, the Murray River is the source of water for more than a million Australian households.
Too much water!
Although Aussies are thankful for how much the Murray River provides to their country, there was a time when this waterway was filled with way too much water: the 1956 Murray River flood. Some areas of the river were flooded 60 miles from where it usually flows. Fortunately, nobody died as a result of this disaster.
Other Australian rivers of note
The Darling River, Australia's second-longest at 960 miles according to Geoscience Australia, connects with the Murray River in Wentworth. It gets its start well to the northeast of Adelaide, towards Brisbane, before making its way through much of the outback. However, it should be noted that it sometimes gets so dry that it doesn't really flow for part of its length.
The third-longest river in Australia is also a tributary of the Murray River. It's the Murrumbidgee River. It gets its start just southeast of Canberra before meeting up with the Murray River at Boundary Bend in an area just east of Mildura. According to Geoscience Australia, this river's length is 925 miles. Several Aboriginal tribes have traditional lands along this river as well.
Australia's fourth-longest river is the Lachlan River, which is a tributary of the Murrumbidgee River. Most notably, it's got wetlands along its entire length, which is atypical for Australian rivers.
Enough about the Murray River and its tributaries!
But you want to know the longest river in Australia that is not at all connected with the Murray River? That would be Cooper Creek. It's 690 miles long and located to the north of Adelaide. A lot of history exists in connection to this waterway as Indigenous Australians have lived here for 50,000 years. Meanwhile, it's perhaps best known as where the Burke and Willis expedition, which went from Melbourne to the Gulf of Carpentaria and almost all of the way back, met its tragic end with the deaths of Robert O'Hara Burke and William John Willis in 1861.
Meanwhile, the longest river outside of southeastern Australia is the Flinders River, which comes in at 625 miles. It's located in Queensland, getting its start in the Great Dividing Range before heading northwest towards and into the Gulf of Carpentaria. Burke and Willis met their turnaround point here. This river has never had many people live around it, and it's, for the most part, undeveloped. However, a number of Indigenous Australians have lived in the area over the years. Today, about 7,000 live in the area.